Yes, it's that thread where you post your feelings on any comic strip that was either created in the 20th century or is currently being printed on papers today.
Here are seven types of random comics I chose to give small fractions of a discussion on:
PEANUTS (The old classics):
These comics are the classics, the ones that made you laugh when times were tough, maybe not rib poking, laugh out loud, fall on the floor type of humor as jokes can only provide so much. Nonetheless, these are the old classics, the ones that got first bid on fresh ideas for comic strips, and sometimes these cartoonists have the most interesting of biographies, well, Schulz, being the very unhappy man he was. However, comics like these are simply dying out, and when new comics come in their place, it sometimes makes the funnies page a thing of the past, yet the old ones are archived, re-read, and remind us of how simple and humorous comics used to be.
Garfield (The sometimes unfunny, sometimes in their prime):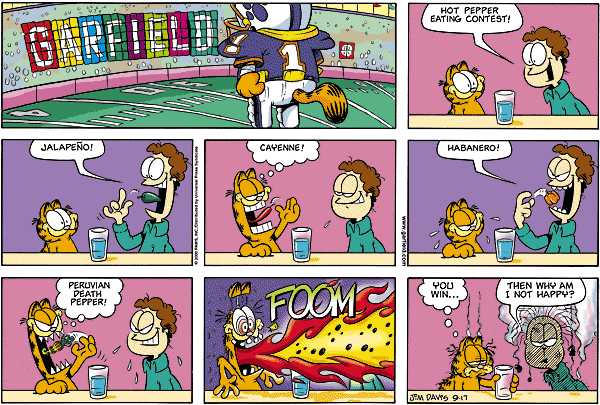 Yes, garfield is not what it was in the '90's, but with all things considered, most people probably adore the comic, and yes sometimes garfield is funny and sometimes not. We can always rely on these types of comics to really find new humor, sometimes outrageous humor, but when they fall they tend to fall hard, but I think this is only specifically with garfield, a lot of other comics are the average joe comics, still running in the paper and providing a goofy-typr of laugh. Such as 'pearls before swine', which are without a doubt, crazy, yet still give some sort of a laugh, a normal comic, no gem, but no lump of coal compared to its fellow rivals.
Dilbert (The sophisticated yet sometimes too much for a comic):
Comics, such as Dilbert, tend to give a laugh, but more of a subtle type of laugh, a rather snooty and most of the time the strips deal with office politics or non-office politics, whatever it may be, it is almost mistaken for the real news sometimes. They don't really dirty themselves with humor about some type of craziness or whatnot, they don't corn-it-up, simply make a joke on the sometimes dull side of life, sure politic related comics (Like Doonesbury) aren't always about politics that you have no interest on, politics currently seems to be interesting, but this is based on what I am guessing of the T.V. drenched, celebrity gossip covered, dirty stand-up comics framed, united states people. Still, they remind us what idiots some politicians can be today, in a funny matter, and how sme people of the current century can act so foolish.
F-Minus (The cruddy Newbs):
Now, these types of comics, I think are what comics today are becoming, simply jokes on situations people are in, randomness really, which is quite sad because they really make no attempt to crack a joke, at all, it is also new to the papers I think. Anyways, these types of comics most of the time confuse, and don't really try to make a complex joke, more of a 'this is a funny type of situation, so LAUGH! DARNIT, LAUGH!' joke, the only thing that I rather like about this comic is that its strips are always consistent with the name.
The Lockhorns (The Corny ones):
Jokes like these, always have a certain hardy laugh to it, may not always get the most mileage but is always bound to at least crack a smile once and again, corniness is not always the stuff that makes up Leno or Letterman, but it is mostly the root of a comic, where humor today came from. These samples of corniness are the embarassing old family photos of the history of comics, not always the first thing you want to read, but compared to what the people of newspapers will let on the funny pages today, is not necessarily bad. I found this one particularly worded the right way and actually got somewhat of an instant chuckle, one that powers up and quickly dissapears for the nature of these cartoons, yet still, everything like the lockhorns always has a certain charm.
For Better or For Worse (The ones that really shouldn't be on there):
Simple comics that either show some teenager or viking going on an adventure and facing danger so many umpteen times, or comics that simply are the soap operas of the page, the ones like 'For Better or For Worse' who simply show life, sometimes too sad, too serious, or too regular. These comics only have a certain amount of volume, and not to sound offensive or anything, they call it the 'funny pages' for a reason, and simply just belong compiled in their own book, like graphic novels. You can't really judge these comics based on their humor because they aim to have none, but rather by it's content, but sometimes, the content gets so formulaic or so much of the same that if you have read one, you've read them all, still, interesting to read once in a while...sort of.
Love is...(Comics that...ugh.)
[img]Couldn't%20find%20image%20that%20wasn't%20unnecessarily%20large,%20just%20use%20your%20imagination[/img]
If that's love, I may have to jump out a window, these are the types of comics that the people in charge of the funnies page's brains just went out for a stroll in the park, when they put this in the paper. The type that if they ever make a movie out of it, the world could end soon.
That's it.
So anyways, that is my attempt to sum up comics into seven natural divisions when talking about comics that have appeared on the funnies page one time or another, any opinions?
Any comics that you like, that you have any opinions on?
Discuss the funnies page and the comic strips that inhabit it, right here.