CLAN'S IDENTITY REVEALED
SOMEWHERE, USA- As most forumers know, a certain man from the rHrN tribe has plagued the forum with his indescribable, incomparable, inconceivable weirdness. For as long as Mr. Clan has been here, everyone has been asking, "Who is this guy? Why won't he post pictures of himself? Does Dormar look fat in that dress?"
Finally, after months of searching, sampling, & scuba diving, our crack team of journalistive investagists--uh, investigative journalists, ahs found the man responsible for Clan's n00bishness.
Or should I say...MEN?!?
Da da DAAAAAH!!!!
To print their names in a context such as this would be heresy to the H*R Wiki Forum, so we will let the following picture speak for itself: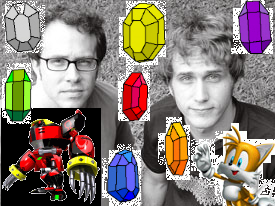 Shocking, isn't it? A group of 1337 h4xx0r5 working 23-hour days & surviving on Bawls energy drink traced Clan's IP to a certain computer in Georgia, where the 2 brothers were yelled at quite harshly by a man in a shrimp outfit. His comments were too incoherent & obscene to reprinted in this fine publication. We have 8-year-olds reading.
When asked why they did what they did, the culprits responded:
"We thought it would work! Well, actually, Jinzo & Tails came up with it. Hilary Duff gaves us 3 million dollars for the free publicity, the 7 Chaos Emeralds power our system, Omega guards it, & our
Pink Pistols of PANDAMONIUM
! kept us safe! Leave it to Jello B. Necromancer & IantheGecko & Rosie & StrongRad & COLA & KN to bust us. We thought living under Stu's house would be a perfect cover."
And it was. They're still in there; we can't get them out. So until the kidlet slaves, driven by the tiny, but mercilessly strong Jitka, have tunneled into the real Clan's compound, we can safely say that Douglas will be in charge of Homestarrunner.com, thanks to our 1337 haxx1ng techniques.
The moral of this story is simple: If you create an Internet phenomenon, do not spam & n00b the forum of the wiki of your phenomenon, because people will find out eventually. Let's face it: what on the Internet hasn't been exposed? Bonsai Kitten? Alex Chiu? Ask Jeeves?
I'm Boomer Bangorcrash. Good night, & wake up when you're not tired anymore.
.