OK, this is definitely one of my favourites for quite a while. In particular, the mental image of Pom Pom as an agitated, inbred dog, growlin' and poopin' all over the place is SO ridiculous that I laugh out loud whenever I think of it.
I came to the forums to see if anybody else had been as amused as I (props to those of you who were/are), and was dismayed to find so many people commenting on/complaining about the length of the sbemail.
Now I'm not one to play l33ter than thou, but the sbemails really have been getting longer, and this most recent SBemail is MUCH longer than many of the classics like guitar, techno and japanese cartoon. (edit: and caffiene is shorter too!) But, I thought perhaps I'm being unreasonable, i mean, those emails came out years ago, and plenty of the more recent emails have been much longer.
So... well, let me show you what I did: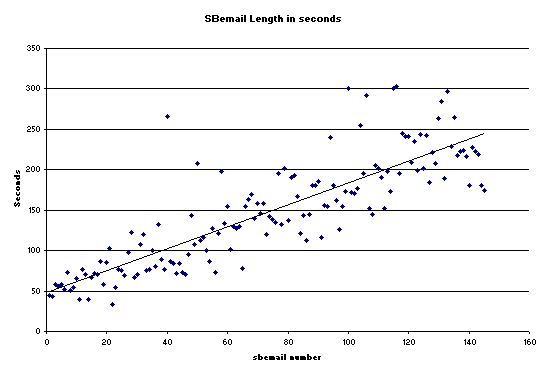 So, while yes, it is substantially shorter than emails of late, it's not SO short.
What it IS is hilarious.