maximumzero wrote:
Well, the messenger bags are finally on sale, and I'm thinking of picking one up finally...

However, I was going to ask anyone here that if they have one, could they snap a few pics? I'm curious as to their actual appearance, inside and out.
Sounds like a project for Kate!
Kinda hard to get pictures of the inside... I've got terrible lighting in here. It's not that big, but it holds a few books or a laptop if need be...
No special fancy pockets or anything inside, unfortunately. Makes digging around in there for a pencil a pain in the butt, which is why I rarely use it anymore.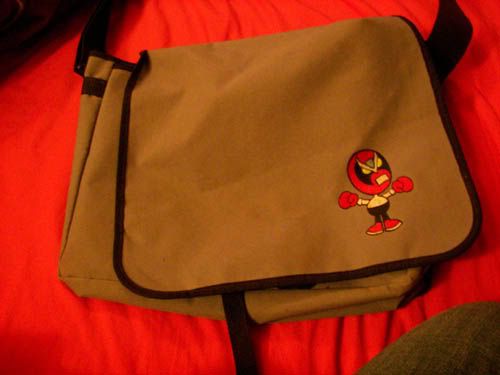 There's the outside. I've had it for a while, and it's still looking good.
The best picture I could get with me wearing it... hello, legs!
And in case you're wondering about size, it's about four-and-a-half Crayolas wide.
Let me know if you could use anything else!